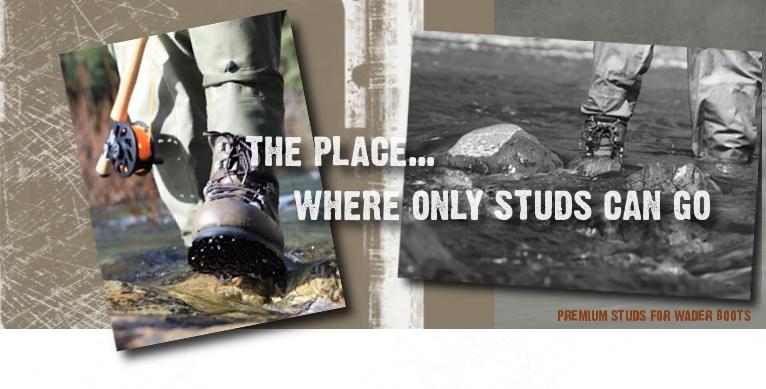 We're passionate about fishing, and we love the confidence our wader studs bring to each unique fishing adventure. Whether you seek a lazy stream tucked away in a pristine valley or a deep river hole below untamed rapids, our rugged tungsten carbide studs will give you the stability you need to reach that perfect spot...
where only studs can go.

What people are saying about Grip Studs:"I was skeptical, but not any more. These are GREAT! I purchased the "3000" stud based on your suggestions over the phone. I installed them on an old but bullet proof pair of Danner River Gripper boots that needed to be re felted. Not any more. The new studs worked like a dream. For install I used a small drill bit to get a good start for a bite and then your tool to send them home. I just spent 4 days on the Deschutes, up around South Junction where the brown slimy algae grows on smooth bowling ball size rocks. I fish this area a lot and have never felt more secure. I went with 14 studs per boot on my size 14 boots, leaving plenty of felt and plenty of carbide. Thanks for reviving an old pair of boots and allowing me to focus on the cast and not so much on the wade." Christopher
Info Video on Installation in Felt
Studs in Felt
Fly Fish Reviews
Installation in Felt
Caddis Recommends Studs for Felt
Studs in Felt (see end of video)
Product Reviews
Tidal Fish Review
Denver Fly Fishing Examiner
Caddis Fly Shop
Outdoor Life
Recent News
"Cleats Key to Traction"
Get Studs for Rubber Boots
Our Blog and Photos
Fall Fishing at Its Best
2010 Sandy River Spey Clave with Pictures
Safe Angling
Invasive Species
Safety of Rubber vs Felt
Publications
Studs vs Screws.pdf
Model #1100 vs #3000.pdf
Placement Patterns.pdf
Installation Guide.pdf